The call to "make disciples" often entails dimensions beyond teaching the foundations of the faith: it requires sensitivity to someone's mental and emotional needs, giving guidance and encouragement, and offering support through difficulties and challenges. Through my experience with Shai, a young man who got connected with us to study the New Testament, I am reminded of this important spiritual truth: God does amazing things in our lives when we have a genuine desire to know Him and a willingness to change.
A Different Kind of Sickness
When I first reached out to Shai, I realized that he was in a dark place and had numerous addictions and emotional problems. After our conversation, we set a date to meet, but, on the day of the meeting, he called saying he was sick. So, I scheduled another meeting for the following week, but when the day of that meeting rolled around, Shai called again to tell me that he was sick. This time I knew that something other than a virus was keeping him from our meetings.
I started asking him questions and quickly realized that Shai had a debilitating anxiety to leave his house and be around other people. Instead of suggesting I come to his place, I simply told him, "The right thing to do is to come and learn to deal with spiritual issues with spiritual tools." Amazingly, Shai listened—rather, God gave him the grace to overcome his debilitating anxiety—and an hour later he arrived at the congregation. This would be the first breakthrough of many that Shai would experience.
Overwhelming Desire
I have discipled many new believers, and I can say that Shai is different from most. From our first meeting, he showed an incredible desire to get to know God. The more he learned, the more convinced he became that only Yeshua could save him, so he clung to Him fervently and sought Him in the Word and in prayer. Over five months of meeting weekly with Shai', often twice a week, I witnessed steady growth in his self-confidence and his ability to deal with everyday challenges which once paralyzed him.
Every positive step we suggested, he implemented, no matter how frightening or challenging. And through every critical step he took, God did wonders in him. When we told Shai that It was important to connect with believers in his area, he immediately found a home group and started attending their weekly meetings. Through this process, he started changing his circle of friends and the environment he surrounded himself with.
The Transformation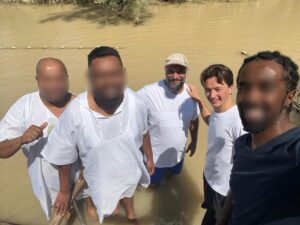 Over a period of five months, we have witnessed a steady and powerful transformation   in Shai. If someone is willing, God will do amazing things in them, and that is exactly what we have seen with Shai: he's been set free from powerful addictions and anxieties, received grace and strength to radically change his lifestyle, and He continues to be filled with Yeshua's transforming love.
Two weeks ago, Pastor Moti and I were honored to be a part of Shai's immersion to declare his surrender and commitment to follow Yeshua. The witness of Shai's life is a great personal encouragement for us, and we are grateful and blessed to be a part of God's plan to save and restore His precious people.
Please keep Shai and all the new believers we disciple in your prayers for continued grace, growth and protection!
(*Shai's name has been changed to protect his privacy*)